Ooh, this is exciting! You may remember a couple of days ago I published a post on my aims for 2019. And one of the things I said I wanted to do this year was publish more personal posts here on my blog. So I thought what better way to kick that off than by joining in with the Living Arrows linky for the first time ever!?
If you've never heard of Living Arrows before, it's basically a series about celebrating childhood through weekly photographs. The project originally took its name from a poem by Kahlil Gibran, "You are the bows from which your children as living arrows are sent forth" and every Monday many bloggers share a moment from their week and invite others to do the same as part of a link-up.
Each week I'll be aiming to share three pictures from our week – one of Stacey, one of Oscar, and one of them both together. And I'll tell you a little bit about each photograph too. I hope it's something you guys will enjoy having a read of, and I think it will be a nice little series for me to look back on at the end of the year to see how much my children have grown. So, are you sitting comfortably? Then let's go!
The first picture this week my daughter Stacey actually took on Snapchat when her and Oscar were messing around at my mum's house one afternoon. And even though it's not the best quality, I felt I had to steal it to feature in this weeks Living Arrows post as I think it shows just how close they are as siblings. Don't let them fool you though – they fight like cat and dog just as much as they get along! LOL.
On Saturday, the kids and I headed into town so they could spend some of their Christmas money. But while we were out, Oscar started to feel unwell and kept falling to sleep. I thought having some food might make him feel a bit better, so we headed to Pizza Hut for tea. But as you can see, he fell asleep there too and didn't want any food. I felt like such a bad mum for not realising he was under the weather before we left home.
Luckily, Stacey was feeling just fine. And we managed to demolish most of a pizza, some cheesy chips and a pudding between us. Once we'd eaten we went straight home so Oscar could go to bed, and I'm pleased to say he was feeling much better by Sunday morning. Phew!
And there you have it, my first ever Living Arrows post. I hope you all enjoyed it, and I can't wait to read through some of the other posts in the link-up. Be sure to let me know in the comments below if you've taken part this week. And if not, I'll pop the badge below so you can click through to find out more about it.
Thanks for reading guys.
Until next time, take care.

Twitter | Facebook | Bloglovin | Instagram | Pinterest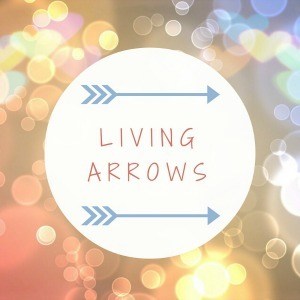 Copyright protected by Digiprove © 2019 Louise Smith